Tilbury Docks - Roller Compacted Concrete Hardstanding
For Ballast Phoenix, constructed by Bardon Composite Pavements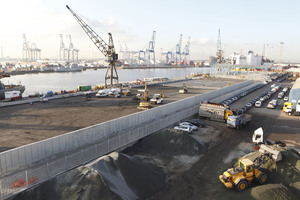 View of the site - including plant processing building under construction
A new purpose-built plant at Tilbury Docks has been designed to process raw incinerated ash into a useable, recycled construction material. Ballast Phoenix has commissioned Bardon Composite Pavements (BCP) to install the pavement slab, which will support the processed IBAA stockpiles, using roller compacted concrete (RCC). John Donegan of BCP explains why RCC was specified as the pavement material of choice for this innovative project: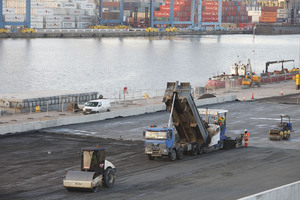 Heavy duty paver laying RCC with backdrop of Tilbury Container Port
The Tilbury Docks scheme is a pioneering and highly sustainable facility that involves the processing of raw incinerated ash arising from Municipal Solid Waste into a useable, recycled construction material - Incinerator Bottom Ash Aggregate (IBAA) - which can replace most primary aggregates for widespread use across the construction industry.
As the operational facility will involve a high volume of HGV traffic, heavy loadings from materials stocking and materials handling plant, the concrete hardstanding must be robust, durable and tough to cope with these pressing demands. BCP worked closely with the Ballast Phoenix team at the initial design phase in engineering a pavement solution optimised to satisfy the functional requirements of the facility.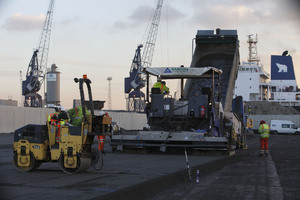 Forming crack inducing cuts in RCC slab
Roller compacted concrete was specified as the pavement system of choice principally for its speed of construction, high flexural strength and subsequent "toughness" in terms of pavement performance.
It was important to specify a concrete pavement which would cope not only with the aggressive environment of the operational facility, but also with the saline conditions adjacent to the quayside. RCC with its low water/cement ratio and dense well graded aggregate design, meets these requirements. A grade C32/40 was specified, with CEM II incorporating pfa, as the binder.
"The BCP mobile mixing plant was positioned adjacent to the hardstanding together with stockpiles of the three component aggregates. BCP operates a fleet of highly mobile continuous mix plants which are capable of production outputs compatible with mechanised concrete paving. High output plant is essential to ensure that paving is continuous and the concrete can be compacted and finished within the specified working time, which is temperature dependant."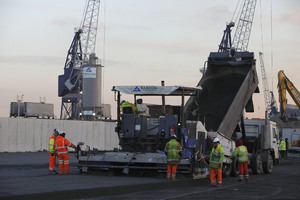 Paving underway, with concrete mixing plant visible in background
"RCC provided a cost effective, fit for purpose, pavement solution which offered programming and environmental benefits to the client. RCC is fully recyclable at the end of its pavement life and has a lower environmental impact due to the lower cement contents it requires for high performance outcomes. In addition, all aggregates were brought in by sea and the only road transport required in this instance was for the cement."
RCC has been used successfully on industrial pavement slabs supporting heavy duty loads for a number of years now in the UK, particularly on schemes within the marine and ports sector, but also in the waste processing and materials bulk storage sectors. The increasing popularity of RCC is testament to the significant commercial advantages of this system over more traditional pavement options. Savings in construction time and cost are such that the small compromises necessary on surface characteristics are increasingly being regarded as negligible. For heavy duty pavements, such as this facility at Tilbury Docks, factors such as high speed skidding resistance and aesthetics can be discounted.