Britpave Task Groups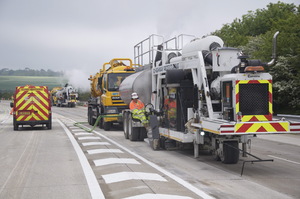 Britpave operates through seven Task Groups who work to develop and disseminate best practice in the fields of:
Roads
Heavy Duty Pavements
Bus & Rail
Sustainable Construction
Soil Stabilisation
Special Applications
The Groups liaise with the Highways Agency and its equivalent in Scotland, Wales and Northern Ireland, the MOD, other Government agencies, Local Authorities and private clients in the development of the best practice and standards.
Britpave has an effective mechanism for lobbying MPs, commissioning research, promoting the use of concrete, improving the understanding by the public and official bodies of their activities and contributing to the preparation of British and European standards. Organising study tours, both in the UK and overseas and generally acting as a focus for all those involved in the various sectors on in-situ concrete paving industry are other important aspects of this work.